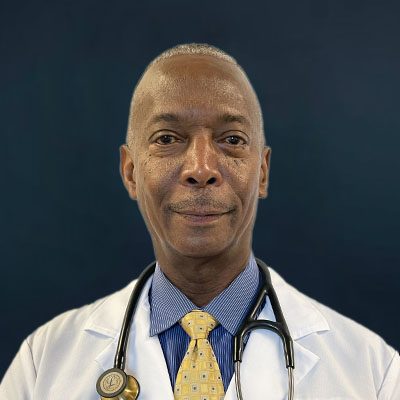 Charles Johnson, PA-C
Charles Johnson joins Advanced Medical Centers as a Physician Assistant serving Richmond, VA. He received his B.S from MCP-Hahnemann University and holds many certifications including Physician Assistant and FMCSA Certified, DOT. He also worked as the local medical examiner for the Commonwealth of Virginia.
Charles loves the diversity of Integrative Healthcare and how it transforms patients' lives who have been suffering from chronic degenerative conditions.
One of his favorite parts of the job is knowing that he has made a difference in a life and making someone feel better not only physically, but sometimes emotionally and spiritually.
Charles holds high standards of practice, which he calls the three Cs: Commitment, Compassion and Competency.
In his free time, Charles enjoys spending time with his wife, his children and his four grandchildren. He is an active member of his church. He has completed 13 races to include 4 half marathons over the past 4 years. He also loves to play the drums.
Nathalia Idelevitch, M.D.
Nathalia Idelevitch is a diligent and considerate family physician, primary care doctor, and geriatrician. She completed her residency in family medicine at the Sackler School of Medicine in Israel. She then moved to the United States to complete another residency in family medicine at Columbus Regional Healthcare System. She also completed her fellowship in geriatric medicine at Maimonides Medical Center.
She is certified in geriatric medicine by the American Board of Family Medicine.
Patients see Dr. Idelevitch for a variety of reasons, including acne, arthritis, pneumonia, asthma, and thyroid consultations. Dr. Idelevitch is trilingual in English, Hebrew, and Russian. Her awareness of these different languages makes her accessible to patients from a variety of cultural backgrounds. Dr. Idelevitch is deeply committed to the well-being of her patients.
Jason Hurst, D.C.
Dr. Jason Hurst, DC is a Doctor Of Chiropractic licensed to practice in the states of Virginia, Indiana, and Florida. He is the director of Advanced Medical Centers, which is the largest Chronic Pain, Neuropathy, and Regenerative Medicine clinic in Richmond, Virginia. Since 2010, Dr. Hurst and his team have been helping thousands of patients in central Virginia get rid of their symptoms from chronic degenerative conditions utilizing the latest technologies that are available.
Dr. Hurst also developed his very own treatment protocol, Cross-Fix Therapy™. Through the use of Regenerative Medicine, Laser Therapy, Infra-Red and LED Therapy, Spinal Decompression Therapy, Whole Body Vibration Therapy, and a specific stretching and exercise protocol using manuals and online videos… The team at Advanced Medical Centers is seeing results with patients that are typically unheard of. Many patients are those who have been bounced from doctor to doctor without ever getting any real relief… Only more drugs, injections and surgeries.
Even with the odds stacked against them, Advanced Medical Centers is continuously getting over a 90% success rate with patients getting relief on the first treatment!
Dr. Hurst is also a consultant for other health professionals in the country. Because of the success he has found in his profession, Dr. Hurst helps coach and teach other Doctors how to effectively set-up, run, and market a medical office to a level of success they only dreamed of. Most importantly, the more successful the doctor…. The more patients they can help.
We asked Dr. Hurst what drives him, and why he cares so much about helping people that are suffering. This is what he had to say…
"Well, to start with… I've always been interested in chronic degenerative conditions…
What causes them?
Why did I always feel like I was in pain?
Why do symptoms of degenerative conditions hit you like a lightning bolt one minute, and then completely disappear the next?
Or worse… Why do they bother some people 24 hours a day, with no relief at all?
And… Is there anything out there that can really make these symptoms go away for good?
Medicine never helped me in the past, except maybe it dulled the pain for a while. But it never actually "fixed" the problems. Even as a young adult, I knew that much. I also knew that injections are temporary solutions that cause faster degeneration of the joints anyway. (If you're only allowed to get something 3 or 4 times a year… how "healthy" do you think it is for your body?)
When I was in my mid 20's, I was at a crossroads in my life and I needed to make a change with my career. At that time, I just happened to have tremendous success with a Chiropractor that helped eliminate my shoulder pain that I was dealing with for over 11 years from a surgery I had in high school. I was so amazed at how dealing with the scar tissue, the muscles, and the ligaments, made 11 years of chronic pain literally disappear in only 3 visits! A couple of months later… I was completing my prerequisites… and soon after, I was in school to become a Doctor of Chiropractic.
Long story short, here we are today.
I often tell my patients, and I will tell you now as well…
"My pain is your gain!"
Whatever your current chronic degenerative condition is… chances are, I have already dealt with a similar version of it myself. Here is just a short list of the things I have done to my body over the years…
Neck Injury in Football
Knee Injuries in Track and Football
Shoulder Surgery from Football
Low Back Injury from Lifting Weights
Achilles Tendonitis from Military and Sports
Shin Splints from Military
Elbow Tendonitis
Fractured Collar Bone from Football
Severe Leg Injury at a Sawmill that I worked at in High School
Fractured Ankle
Broken ribs from being a foolish kid
Multiple Car Accidents
Mid Back Injury from Falling on Ice
… And this is the short list! I have re-injured the same areas of my body numerous times!
You may have a story like mine, but hopefully not! I hope you might say that you have no idea how your symptoms started. (Don't worry; we're going to help you figure that out.)
Truth be told, it doesn't matter how the symptoms developed; it only matters how we are going to treat them.
We understand that most people don't think about how the body functions on a daily basis. What I've learned over the years from treating thousands of patients is that most people really don't care how the body functions, they just want to feel good again!
Sound familiar?
The good news is you don't have to care how the body functions either.
Follow us... Let us guide you. Our Cross-Fix Therapy™ program has been designed with long-term, future results in mind. We don't want you to just get relief today… we want you to have relief that lasts for years to come. Our protocol has proven to offer this to our patients.
It's impossible not to get relief in our office as long as you show up for your treatments, and you do everything at home that is expected of you. If you're looking for a solution for your problems instead of just another band-aid, then give Advanced Medical Centers a try! We will not let you down.
Beth
Physical Medicine Manager
Samantha
Medical Assistant
OFFICE HOURS
---
Monday
8:15am - 12:00pm
12:30pm - 6:00pm
---
Tuesday
8:15am - 12:00pm
12:30pm - 6:00pm
---
Wednesday
8:15am - 12:00pm
12:30pm - 6:00pm
---
Thursday
8:15am - 12:00pm
12:30pm - 6:00pm
---
Friday
Closed
---
Saturday
Closed
---